Installations and services
Sauerhammer Wäschereibedarf & Service have many years of experience in the field of laundry techniques. For us it is essential to support our customers in all matters. Be it consulting before meeting decisions, supplying the needed materials or organising and carrying out installations.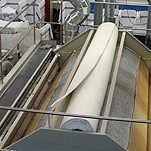 Our installation works comprise everything: cylinder covering (ironer cloths, needled felt, et al.), ironer covers (e. g. lamellae), ironer tapes, grinding troughs and repair of cylinders and troughs. We offer high quality work and are always reliable. If desired we gladly train our customers' employees, either during or after the installations.
Installation and service works do also apply to folding and plaiting machines, presses and ironers. Pads and covers to be used will be assembled in accordance with current quality standards and supplied for an immediate application at our customers' premises.
Short response times on customer's demand (also emergencies), regular inspections especially for highly stressed machines help to avoid and minimise deadtimes. We also offer lump-sums for installations of certain machines.
Sauerhammer works throughout Europe!
Assembling the ironer cloth

---

Depending on the load and hours of operation the cloth needs to be changed regularly to ensure the best quality possible.

Read more...

Feeding belts

---

 

Abraded feeding belts, as can be seen in the pictures below, need to be replaced. Same applies to the covers of the transport rolls. After that your laundry will be conveyed clean and straight to the ironer. You by this means prevent damages to your laundry.

Read more...

Pulling out dents in a cylinder

---

Accumulation of laundry can lead to an impairment of the cylinders. These damages become visible by white round stains on the flatwork ironer cloth. Hence it is neccessary that such damaged parts are fixed before a new lamella is installed.

Read more...

Repairing of steel troughs

---

During the period of use the troughs can become leaky or elsewise impaired. Is that the case it is important that experts take care of it and dismount, weld and reintegrate the troughs.

Read more...

Folding machine service II

---

For the folding machine service II (complete overhaul) all belts need to be assembled. All necessary expendables are supplied. Our technicians perform the replacement of the belts.

If needed bearings, shafts, chains and belts can be replaced as well.

Read more...

Supply and condensate problems

---

Twisted or pleated laundry during the operation of the machine can have different causes. Or technical staff will then try to localise the fault. Causes can be for instance faulty capacitors, too less forefrun, problems with the wax, etc.

Read more...

Transportation of ironers

---

Sauerhammer Wäschereibedarf + Service offer installation and disassembling of laundry machine systems in collaboration with their partners.

The pictures blow show the shipment of an ironer by means of a special crane. This ironer was dismounted and prepared for the shipment by us. This included disconnecting the power supply and other used energies like gas and steam. Also all other parts that belonged to the machine were disassembled and shipped.

Read more...

Feeder

---

This machine is used to dispose or arrange the laundry beforehand. It thus allows a more efficient usage of the machine's capacity..

Since wear and abrasion of the conveyor belt can not be avoided it is essential to replace all belts – as needed – at the same time. By this your laundry will be arranged straight and clear.

 

Read more...

Mounting needled felt

---

Needled felt as ironer covers are subject to certain purposes.

The basic steps of that assembly will be shown below.

Read more...

Mounting the lamellae

---

The lamellae, used as covers, are mounted onto the roller body. They carry the ironer cloths or the needled felt. When mounted the lamella is pressed on a machine-specific measure.

Read more...

Welding stainless steel troughs

---

Damages to the troughs mostly become noticeable through leaks and the resulting water outlet. Professional welding will put things right again.

Read more...

Folding machine service I

---

 

All needed belts are assembled by us for the folding machine service I. Also we provide all necessary expendables. Our technicians perform the replacement of the belts.

 

If needed we can do a complete overhaul of your machine as well.

Read more...

Conveyor

---

They are used in many different stations of a laundry. Time and again unforeseen damages can occur. But this need not neccessarily have a huge impact on your system. We have the skills and techniques to spare you a total breakdown.

Read more...

Gearbox replacement

---

We replace old gears with the appropriate tools. Leaking or defective gearboxes can lead to a total breakdown of your machines. We will gladly help you in this case.

Read more...

KannPressPlus – The new generation of springs

---

The following pictures will show you a defective spring of a MaxPress wrapping. This wrapping is replaced with state of the art materials by us.

A clean and perfect finish of the laundry could no longer be ensured because of the distorted spring. As a result the laundry remains wet on some parts or becomes pleated.

We would like to give you an impression of how we install the new KannPressPlus spring.

Read more...